What We Do…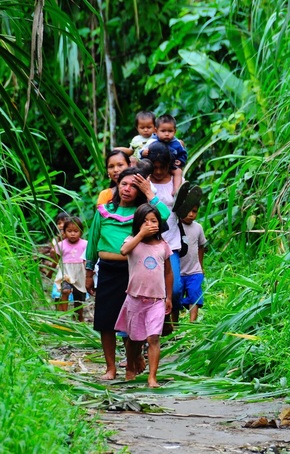 RiverWind Inc works with some of Peru's numerous indigenous peoples from oral cultures, living in the Amazon basin of Peru. While our office is located in Pucallpa, the gateway city on the Ucayali River, flowing north from the southern high jungle, becoming the Amazon River.  We work upriver in the heart of the jungle. We conduct training with the Shipibo – an ancient people, their history reaching back more than a thousand years.  We train them to reach and teach others, still deeper in the Amazon, people who have had little or no opportunity to hear the good news of Jesus the Messiah, King of kings and Lord of lords.
The centerpiece of our ministry in these remote villages is Orality – teaching the Bible's narrative, chronologically telling its stories from creation in Genesis 1, the calling of Abraham in chapter 12, the formation of the people of God – called to be a light to all peoples of the earth. We teach the O.T. history of the Jewish people, the covenant made with King David leading to the coming of the Messiah, Jesus.  Following Jesus' life, death, resurrection and exaltation, we walk through Acts and the growth of the early church.
We also do community development with men, women and children, providing medical services with visiting mission teams, conduct mission and leadership seminars taught by visiting teams, distribute school backpacks and supplies to children, drill wells for clean water, provided English Language services for young adults in the city of Pucallpa, and encourage remote communities to serve and preserve creation.
---