Leadership Tranformation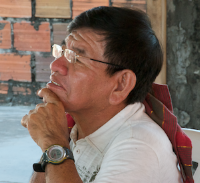 RiverWind's core value is transformational leadership - growing servant leaders.  We offer training programs for men and women in the church and in the wider community.  The key to training in indigenous ethnic communities involves story-telling.  They are primarily oral rather than reading cultures; their history and ancestry is passed from generation to generation through the stories of the people group.
Many, especially among older generations, are mono-lingual; they speak only their "native tongue."  During the last twenty-five to fifty years, however, schools have provided education in Spanish for the youth; today most young adults and children are bilingual, they are living in at time of transition from an oral to a reading culture.
As an example, while we use the materials of Spanish-language of Scriptures In Use to teach the stories of the Bible, we also are training the RiverWind Shipibo trainers in linguistics, to help them translate those materials into Shipibo language.  Therefore not only the youth, but an older generation will be able to learn the stories of Scipture.
---
A detailed mind map of RiverWind's activities
---
Leadership Curriculum Upriver in Tahuania
Orality
BRIDGES (Scriptures in Use)
40 Old Testament stories leading to Christ's ministry
Church Planting
---
C.E.L. 1st Year (Leadership Training Center)
Walking with Christ - Acts & Epistles
DAI Servant Leadership:  Lessons 1 - 5
Worship 1, 2
Ecclesiology
Spanish 1
---
C.E.L. Year 2
DAI Sevant Leadership:  Lessons 6 - 10
Christian Education
Spanish 2
---
C.E.L. Year 3
DAI Level 2
Pastoral Ministry
Spanish 3
Administration: Project Planning, Expenses & Reports
---
Children's Programs
We help them and their families by providing programs, information and resources to assist in their journey. We also help by raising awareness through public outreach and media.